para mu queng update
Friday, September 05, 2008
02:06 pm
2008 na. Mipakananu ne ing biye cu. Marakal nang milyari keng tutu mu. Miras na kami keng Canada. Makatuknang na kami keng bayu ming bale at abaligtad kuneh ing dila ku keng pamag- english. Simple mu ing biye keni. Marakal kareng kabalen tamu Pilipinas na baka aliwa ing biye keni.

Enaman maragul ing pamaliwa na ning biye keni atsaka keng biye Pilipinas. Magobra, magaral at mamangan. Alang tricycle o dyip keni. Atin bus atsaka taxi. Ring bus maka- schedule la at pwede mulang alawe internet kung nanu lang oras datang. Atsaka kung atin kang pupuntalan a lugar kaybat eme balu ing address, atin ding site keng internet at pwede meng luwen kung makananu meh puntalan.

Ring anak keni laganap lang magobra. Marakal din naman ding ali magobra. Pero metung ku kareng magobra at ali magobra. Full time student ku at habang ating klase, ali na pa. Sabadu at Linggu. Akalingwan keh ing Sunday queng Kapampangan. Ahihi.

Aro.

Marakal asali keni at atin lang pera ring tau. At istung marakal la asasali, masaya mo. Pero ring anak a dagul sali ng sali, medyo akakalingwan dana ing pamagsimba at purus na lang busy.

- jed.david
Permalink |
Magalak a Pasku keko ngan!
Monday, December 25, 2006
11:34 am
Anyaran kumu na maging masaya ing kekatamung Pasku ngening aldo! Hala, oini na ko, magpaka lalam a pandamdam maski na mababo kung tau. Atin ku pin sanang balak eh. Balak ku pin sanang magpost anyang 12:01 na ning abak bangkantang kabusni na ning aldo saktung maatu kayu ngan ngening Pasku. Kaso eku agawa eh. Metudtud ku kari lola ku. Marakal milyari. Metung na karin na queng dahilang marakal a milyari, ecu metudtud. Awa, puyat naku na naman. Nanu pa waring bayu kang Jed? Kaya pin susura ya kutis eh. Pweh!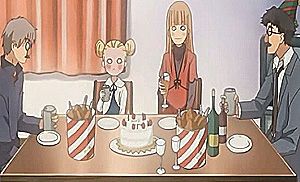 Metung pang sayang. Eke buklat ing bayung fansite cu. Eya misadsad eh. Medyo marakal ku pa pala gawan bangkanta aparas que hanggang initial stage mu. But then again, I haven't been able to beat the deadline... kasi pin Pasku. Dakal Christmas party atsaka Pamamye aguinaldo kareng inanak. Naku, yaku naman ing dinan yung Aguinaldo. Awa maski College student na cu. Kailangan ko ring Aguinaldo yu ninang at ninong!
Anyway, I have to go. I need to greet some friends as well.

A MESSAGE FROM JED DAVID:
An Exultant Christmas and an Exuberant New Year to all of you. Thank you for the time and patience. Thank you for your visits and misvisits. Thank you for the doodles and blueprints. Thank you for the credits and hits. Thank you for your support and effort. Thank you for the pain and laughter. Thank you for the inspiration and encouragement. They're all appreciated and I've cried a little when I realized that I conquered some of the things I thought I'd never be able to do. I'm grateful for the days and nights you've made me move. Sorry for being corny. God Bless!
- jed.david
Permalink |
biye cu : nanung pwede?
Sunday, November 26, 2006
11:58 pm
Aro paro! Acu na naman ing maka- assign queng creative department mi! Nanung gawan kung kamulangan na naman kanyan?! Hmm... nanu kaya ing akakit da kako ring kayabe ko? Enakuman pogi.
Todo mo neh ini! Bali, misip kung lagyu na ning banda, theme para queng concert mi December at lagyu na ning theme. At kapilan yayni? Queng duminggu. Makananu na ing pamagaral?
Tsk. Time for some extra joss! Hwooh, sige, agyu taya ini! Malwat pa naman ing submission eh.
- jed.david
Permalink |
biye cu : hit pause
Saturday, November 25, 2006
10:56 pm
Leko ku neh koneksyon ing chonegai atsaka ing queca cu - quacu ca blog. Mas masanting kung parallel la dalan rening adwang a reni. I'm recycling a layout for this blog. I wish to have a fresh start. Ayus, masakit naku taliri. Anaktokwa kapagal!
- jed.david
Permalink |
biye cu : bukas na
Tuesday, September 26, 2006
05:40 pm
Bukas da neh ilibing i Lolo cu. This is the first time that I've lost a relative. Ala nga namang maging masaya kami? Obvious naman na malungkut kami ngan. Pero tanggap mina. Ecu mu balu canyan kung muran bukas. Sana ali. Atin kasing bagyu, diba? I bet a lot of us will cry when potang kukut-kut daneh i apu. We'll never see him again. It's just that simple of a fact. I bid you farewell, Grandpa Tico. We'll miss you.
- jed.david
Permalink |
biye cu : the pisser computer
Tuesday, September 19, 2006
01:53 am
Kalokwan na ning computer ko! Nanung kamulangan na naman ing malyari kanini? Bayung sali ya pamo ing videocard na nini! Otat The Sims 2 mu ecu makapamyalung?! Otat i-koya cu makapamyalung yang Civ4 na?! Biased ka neh?